Extreme Engineering Solutions' XPedite5850 is a NXP QorIQ T4240 12-Core Processor-Based Conduction- or Air-Cooled Basic COM Express® Mezzanine Module
The XPedite5850 by Extreme Engineering Solutions (X-ES) is a ruggedized COM Express® module that complies with the COM Express® Basic form factor (95 mm x 125 mm) and supports an enhanced Type 5-based pinout. COM Express® provides a standards-based form factor to bring processing to a wide range of applications. Available in both conduction- and air-cooled versions, the XPedite5850 supports the NXP (formerly Freescale) QorIQ T4 processors.
XPedite5850 is one of many of Extreme Engineering Solutions' high-performance embedded processor mezzanine modules.
Features
NXP QorIQ T4240 processor with 12 dual-threaded Power Architecture® e6500 cores at up to 1.667 GHz
Alternate NXP QorIQ processors: T4160 and T4080
Conduction or air cooling
COM Express® Basic form factor (95 mm x 125 mm)
Extended shock and vibration tolerance
Up to 16 GB of up to DDR3-1866 ECC SDRAM in two channels
x8 PCI Express interface
x4 PCI Express interface
Up to four 10 Gigabit Ethernet ports
Eight Gigabit Ethernet ports
Two USB 2.0 ports
Two SATA ports
Two serial ports
Up to 256 MB of NOR flash (with redundancy)
Up to 32 GB of NAND flash
NXP hypervisor support for secure partitioning
Wind River VxWorks BSP
Linux BSP
Green Hills INTEGRITY-178 BSP
Contact factory for availability of QNX Neutrino and LynuxWorks LynxOS BSPs
Rugged COTS Embedded Computing Solution
The XPedite5850 complements processor performance with up to 16 GB of DDR3-1866 ECC SDRAM. It also hosts numerous I/O ports, including up to four 10 Gigabit Ethernet ports, eight Gigabit Ethernet ports, a single x8 PCIe port, a single x4 PCIe port, two SATA ports capable of 3 Gb/s, two USB 2.0 ports, two I²C ports, two serial ports, a Serial Peripheral Interface (SPI) with two chip selects, and IEEE 1588 support.
The XPedite5850 provides a high-performance, feature-rich solution for current and future generations of embedded applications. For customers seeking lower overall power consumption, the XPedite5850 can alternatively be designed with the NXP QorIQ T4160 or T4080 processors.
Industry-Standard Board Support Packages with Secure Partitioning
Operating system support packages for the XPedite5850 include Wind River VxWorks, Green Hills INTEGRITY-178, and Linux 2.6. Wind River VxWorks and Linux BSPs may optionally be paired with the NXP hypervisor software to facilitate secure partitioning
About Extreme Engineering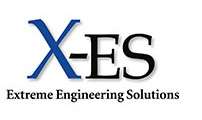 Extreme Engineering Solutions, Inc. (X-ES), a 100% U.S.A.-based company, designs and manufactures Intel® and NXP (formerly Freescale)-based single board computers, networking products, storage products, power supplies, and system-level solutions for embedded computing customers. For further information on X-ES products or services, please visit our website: www.xes-inc.com, call +1 (608) 833-1155, or email us at sales@xes-inc.com.